We have a whole year of book releases coming people, and it's going to be great!  I'm looking forward to quite a few books coming out next year, even though I have a ton of books being neglected on my shelves (bookworm problems, am I right?).  I might not be looking forward to quite as many books as my fellow bookworms are on social media (due to my picky nature), but there are some I'm very excited for and will be reading next year without a doubt!
1. Love & Luck by Jenna Evans Welch
I finally got around to reading Love and Gelato just a few months ago, and I loved it!  I'm actually mad at myself for not reading it sooner!  I liked Lina's best friend Addie in her appearances in the book, so I'm really looking forward to a book that's centered on her!
2. Time Bomb by Joelle Charbonneau
I know I already read this through NetGalley's program, but I'm definitely going to read it again and get the actual book when it comes out in March.  This book really stuck with me and I'm just real excited for others to read this book as well!
3. Love & War (Alex & Eliza #2) by Melissa de la Cruz
Though I technically listened to the audio-book of Alex & Eliza, I can't wait for their story to continue with the next book.  I might even listen to the audio version instead of read it, but only if Cassandra Campbell does the narration again because she was fantastic!  There's a chance I'll read the book and listen at the same time, but we'll see what happens.
4. Listen to Your Heart by Kasie West
I just found out about this book this week, and I wish I hadn't because I hate waiting!  I seem to like Kasie West's books (despite only having read a few of them), but I really have no doubt that I'll like this one.  It just seems like a really good story and I'm hoping it will play out to be one!
5. Not If I Save You First by Ally Carter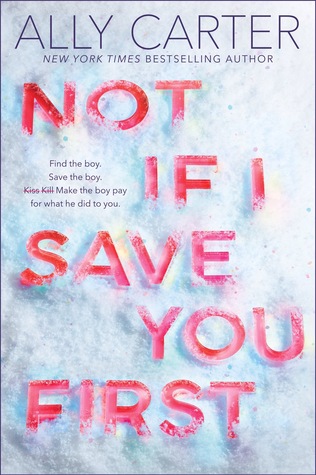 I have Claire at Books Coffee and Repeat to thank for finding out about this book.  I've read a few of Ally Carter's books before and enjoyed them.  The plot of this one seems great, so I'm really looking forward to it!
And that's all I'm listing because those are the only ones I'm 100% looking forward to next year.  There are a few others that are of interest, but whether I will definitely read them is still up in the air.  In the meantime, I'll have to get to all those books I've been neglecting while I wait for these to be released!
What books are you looking forward to next year?